Evanescent Scattering Methods
Resonance Enhanced Dynamic Light Scattering (REDLS)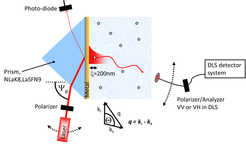 The development of evanescent light scattering methods to be able to do experiments in the vicinity of solid or liquid interfaces has led to the new method "Resonance Enhanced Evanescent Light Scattering", short REDLS. We use here a surface plasmon polarition as the incident field. Thus we gain an orders of magnitude higher sensitivity compared to traditional evanescent light scattering methods working at total internal reflection. We were able to follow the diffusional behavior of particles of radius smaller than 20 nm. Furthermore we study the rotational behavior of particles anisotropic in form or electron density close to solid interfaces.
Waveguide Enhanced Dynamic Light Scattering (WEDLS)
The limitation to use a noble metal as the interface in REDLS is relieved in the evanescent scattering method Waveguide Enhanced Dynamic Light Scattering (WEDLS) by using a thick layer of a transparent material as PMMA on top of the typically 50 nm gold layer on the prism. Waveguides are excited at specific angles, having a range of penetration depth between 100 and 1000 nm.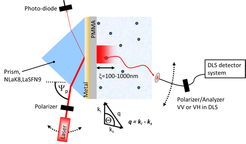 Research with these two methods is performed in the fields of Dynamics in thin polymer films and in Dynamics of particles at interfaces to study the influence of solid interfaces on the dynamics of particle and ultrathin polymer films respectively.