Obituary: Prof. Kurt Binder
It is with great sadness that our institute takes leave of Prof. Dr. Kurt Binder, who was closely associated with our institute as an external scientific member for many years. He passed away on Sept. 27, 2022.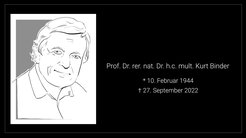 Kurt Binder was one of the world's leading scientists who transformed the field of computational statistical physics from its initial niche existence to today's indispensable tool for the study of many condensed matter phenomena. For his many contributions (central methodological advances in the field of Monte Carlo simulations, systematic analysis of phase transitions, as well as the clarification of important questions in the physics of interfaces, glasses, and especially of polymers), he was awarded the Boltzmann Medal as well as numerous other prizes. Many colleagues and former students all over the world are closely related to him - among others Prof. Kurt Kremer, as well as further scientists of the theory group of our institute. His death is a painful loss for the entire community.
Tanja Weil, Kurt Kremer