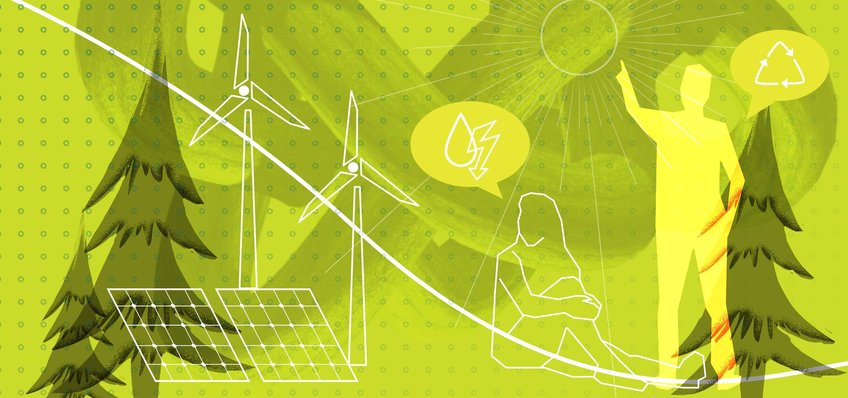 Polymer Materials for Sustainability
Solving global challenges such as climate change, plastic waste pollution and the exploding world population requires innovative technologies, processes, and materials concepts. At our institute sustainability-related research is an increasing focus. The results of our research should yield new methods for the environmentally friendly production of sustainable materials and more efficient catalysts and organic light-emitting diodes, for example, as well as more effective ways of combatting climate-related challenges such as pest infestation in agriculture.
In the Transregio 234 "Catalight", research is being conducted in Department Weil on polymeric materials inspired by functional units of the photosynthetic apparatus, which enable the light-driven and maximally environmentally friendly production of hydrogen as energy carrier. For this purpose, we use water as a reaction medium as well as light-driven catalysts, opening up new ways of producing important chemicals in an environmentally friendly manner.
We are also investigating catalytic processes at electrodes that occur during the splitting of water into hydrogen and oxygen, and are developing a molecular understanding of these complex processes. One goal here is to optimize electrode surfaces to increase the efficiency of the production or combustion of hydrogen. Resource-saving use of energy is also being researched in Department Blom, where we are focusing, for example, on "consumers", such as organic light-emitting diodes. New processes are being used to further optimize production cost and energy consumption of these light sources.
Issues of sustainability, energy and technology are often closely intertwined. Thus research projects working on more efficient solar cells made of organic molecules or perovskite materials in the Department Blom and Department Butt could make an important contribution to the sustainable generation of energy. Simulation methods used in Department Kremer complement applied research allow targeted predictions for the development of entirely new and potentially more efficient material systems.
A completely different aspect of sustainability is addressed in the project "ESCApe" established in Department Landfester, where we are developing an effective and sustainable method to combat the grapevine disease Esca. Esca infects grapevines and causes huge crop losses − control using conventional sprays is not possible. The nanocarrier materials developed in Department Landfester can be seen as a kind of "vaccination" for the grapevine that effectively protects it from infection. This new technology has potential as an effective antidote for other plant diseases, such as apple canker and ash dieback.
At Department Weil we are developing ─ partly in cooperation with industrial partners − naturally occurring monomers and polymers for the production of biodegradable membranes, films, and "thickeners". In the BMBF-funded "Kosmogel" project, we are producing biodegradable network components that independently organize themselves into stable networks, following nature's example, which are intended as a contribution toward environmentally compatible cosmetic products as sustainable gel formers.