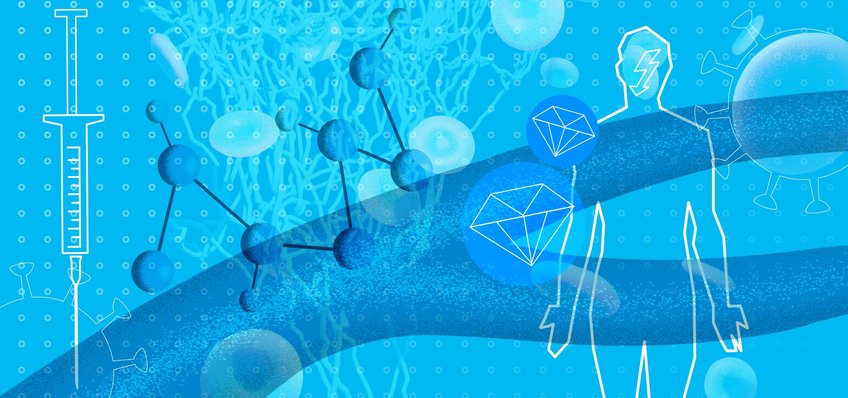 Polymers for Medicine
Polymers have a wide range of applications in medicine, including sterilizable packaging, disposable gloves, drug capsules and transporters of active ingredients, such as mRNA vaccines packaged in nanoparticles. At our institute, we design polymeric materials that can be used to overcome various medical challenges.
Katharina Landfester's group is researching polymer nanocapsules that can move around in the body and interact specifically with cells and tissue. Drugs are packaged in nanometer-sized polymer shells which can, for example, target tumor tissue or cells of the immune system in order to release active substances efficiently. This could make drugs more effective and reduce possible side effects. "Cloaking" ─ the hiding of drugs from the body's immune system − could also potentially reduce side effects and/or access previously inaccessible regions of the body.
Nanometer-sized diamonds studied in Tanja Weil's research group could also be used for medical purposes in the future. For the field of diagnostics, atomic defects are specifically incorporated into the diamond material which can make them "glow.". Their luminosity is influenced by environmental parameters such as temperature or pH, making these parameters externally measurable in living systems.
Nanodiamonds could also be used for photodynamic therapy. The nanoparticles are modified so that they are taken up by cancer cells. Then heat can be generated locally by light irradiation so cancer cells can be induced into a controlled cell death. The temperature rise in cells can even be read out via the nanodiamonds.
Also in Tanja Weil's research group, peptides are used in a variety of ways. Novel therapeutic approaches are being developed with these molecular building blocks, which can be assembled like Lego bricks to form a network. Cancer cells can then be destroyed from the inside, nerve tracts offered a scaffold to grow back together, and viruses can use these as transporters to smuggle genetic material into cells.
In Paul Blom's research group, organic electronics are being developed to investigate the mode of action of drugs in the human body from within the laboratory. For this purpose, transistors are made of organic materials that serve as a kind of converter between ionic current and electron current. With the help of artificial cell barriers, the process of how drugs are transferred from the intestine via the intestinal wall into the blood can be simulated in the lab. This will hopefully accelerate drug development in the future by replacing animal experiments with laboratory testing.