Dr. Volker Mailänder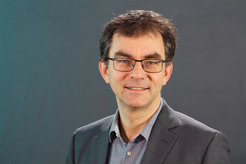 Volker Mailänder studied medicine at the University of Ulm supported by a stipend from the 'Studienstiftung des Deutschen Volkes' and was in the graduate program 'Molecular Biology'. He worked in the Blume/Negrin lab in Stanford, California, on natural killer cells and on bioluminescence imaging. Afterwards, he received training in internal medicine (haematology/oncology) in the Charité hospital in Berlin. After relocating to the Institute for Clinical Transfusion Medicine, University Clinic of Ulm, he worked on stem cell manipulation and was board certified in transfusion medicine. He focused on using polymeric nanoparticles for labelling or manipulation of stem cells and other cell types and was leading the stem cell lab of the III. Medical Clinic until December 2015. Since January 2016, he is leading a joint research group between the University Clinic Dermatology, Mainz, and the MPI for Polymer Science. He is a full professor at the University Clinic, Mainz and is heading the Center for Translational Research – CTN. Current research topics include protein-nanoparticle interactions, detecting pathways of endocytosis and harnessing nanoparticles for use in medical applications.
Research Interests
Coming from a background of clinical research in haematology and oncology and having been board certified in transfusion medicine, my interest is in the field of using nanocarriers for the treatment of malignant disease and on a broader range in immunological control of diseases and cellular therapies. Hallmarks of the development of nanocarrier systems were liposomes like Doxil® and iron oxide nanoparticles like Resovist®. Since then the research for nanocarriers has been hampered by a lack of understanding of the confounding factors leading to drug delivery by nanocarriers. Being able to understand when the targeting of nanocarriers could work and when the targeting cannot work is a major goal or our research. We, therefore, have been investigating the deteriorating effect of adsorbed proteins on nanocarriers. Our future focus will be on transforming our in vitro knowledge into in vivo approaches and demonstrate the level of effectiveness of targeting and its biological impact.
---
Selected Publications
Encapsulation of polyprodrugs enables an efficient and controlled release of dexamethasone.
Nanoscale Horiz. 2021
Alpha-1 antitrypsin inhibits TMPRSS2 protease activity and SARS-CoV-2 infection.
Nat Commun. 12(1):1726 2021
Amphiphilic Polyphenylene Dendron Conjugates for Surface Remodeling of Adenovirus 5
Angewandte Chemie International ed. in English. 59(14):5712-5720 2020
Protein deglycosylation can drastically affect the cellular uptake
Nanoscale 11(22):10727-10737
Pre-adsorption of antibodies enables targeting of nanocarriers despite a biomolecular corona
Nat Nanotechnol. 2018 13(9):862-869
Delivering all in one: Antigen-nanocapsule loaded with dual adjuvant yields superadditive effects by DC-directed T cell stimulation
J Control Release 2018, 289, 23-34
Protein adsorption is required for stealth effect of poly(ethylene glycol)- and poly(phosphoester)-coated nanocarriers
Nature Nanotechnology 2016, 11: 372-377
Protein source and choice of anticoagulant decisively affect nanoparticle protein corona and cellular uptake
Nanoscale 2016, 8: 5526-36
Protein corona of nanoparticles: distinct proteins regulate the cellular uptake
Biomacromolecules 2015, 16: 1311-21