Dr. Markus Klapper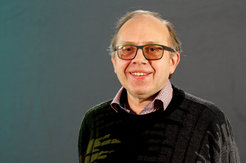 Markus Klapper studied chemistry at the University of Mainz and received his doctorate in 1990 from Prof. R. C. Schulz with a thesis on the synthesis and topochemical polymerization of aminodiacetylenes. Soon after, he moved to the MPI for Polymer Research and became project leader in the Department of Synthetic Chemistry. His research interests include new polycondensation and polymerization processes as well as polymer-analogous reactions for the synthesis of functional polymers and block copolymers. These materials have been specially developed for fuel cell applications or for hydrophobizing inorganic nanoparticles. In addition, in recent years he has concentrated on the polymerization of olefins in heterogeneous phase, for which he has developed new organic carriers and investigated their polymerization behavior. Another central topic is the development of non-aqueous emulsions suitable for the polymerization of water-sensitive monomers.
Selected Publications
1.
Journal Article
Colloidal stability of polymer coated zwitterionic Au nanoparticles in biological media. Inorganica Chimica Acta
2.
Journal Article
54
(6), pp. 2667 - 2680 (2021)
Organic Versus Inorganic Supports for Metallocenes: The Influence of Rigidity on the Homogeneity of the Polyolefin Microstructure and Properties. Macromolecules
3.
Journal Article
54
(3), pp. 1465 - 1477 (2021)
Simultaneous Bottlebrush Polymerization. Macromolecules
4.
Journal Article
6
(14), pp. 6074 - 6084 (2018)
Anhydrous proton conduction in self-assembled and disassembled ionic molecules. Journal of Materials Chemistry A
5.
Journal Article
11
(2), pp. 289 - 303 (2017)
Dissecting common and divergent molecular pathways elicited by CdSe/ZnS quantum dots in freshwater and marine sentinel invertebrates. Nanotoxicology
Show more