Hamburg Science Award 2017 goes to Klaus Müllen and Xinliang Feng
Klaus Müllen of Max Planck Institute for Polymer Research (MPI-P) in Mainz and Xinliang Feng of Center for Advancing Electronics Dresden / Technische Universität Dresden have been awarded the Hamburg Science Award 2017, which this year was dedicated to the subject of energy efficiency. The Academy of Sciences and Humanities thus honours the two chemists' research in the field of graphene research.
This functional material, which – due to its various properties – has since its discovery in 2004 been considered as the material of the future, is especially suitable to be used in batteries and supercapacitors. This is due to its high energy storage capacity. Furthermore, graphene can be used for more efficient catalysts in the reaction of oxygen reduction reaction and hydrogen generation, and allows for a new generation of semiconductors. With their fundamental research of carbon materials, Müllen and Feng have decisively influenced the synthesis and processing of carbon materials and thus made a significant contribution to the better understanding of this material. Moreover, Müllen and Feng's application-oriented research made it possible to develop highly topical energy-relevant components, such as supercapacitors and batteries with a high energy density, short charging time, and high long-term stability: An important step towards utilisation by the society.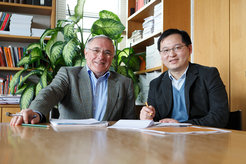 From 1989 until 2016, Klaus Müllen was Director at Max Planck Institute for Polymer Research (MPI-P) in Mainz and headed the Department of "Synthetic Chemistry". The award-winning chemist received, among others, the Max Planck Research Award, the Polymer Science Award by the American Chemical Society, the Adolf-von-Baeyer-Denkmünze by Gesellschaft Deutscher Chemiker and the Carl-Friedrich-Gauß-Medaille. Currently Müllen is fellow at the Gutenberg Research College and heads the Emeritus Research Group "Graphenes" at MPI-P. He studied chemistry at University of Cologne and was granted his doctorate by University of Basel. He obtained his habilitation at ETH Zurich.
Since August 2014, Xinliang Feng holds the Strategic Chair for Molecular Functional Materials of the Cluster of Excellence Center for Advancing for Electronics (cfaed) Dresden at Technische Universität Dresden. Previously, Feng worked as group leader also at MPI-P, where he received his doctorate in 2008. He obtained his Bachelor's degree in analytical chemistry in 2001 and his Master's degree in organic chemistry in 2004. The award-winning scientists received, inter alia, an ERC Starting Grant Award by the European Research Council; he is fellow of the Royal Society of Chemistry (FRSC, 2014), and one of the work package leaders of the EU pilot project "Graphene Flagship".