Principles of Self-Organization revealed
Otto-Hahn Medal for an Outstanding Doctoral Thesis goes to Dennis Kurzbach
Mainz/Vienna. Many systems comprise the capability of spontaneous self-organization - a phenomenon that is investigated by scientists from many fields of science ranging from philosophy to the different disciplines of natural science. All of them try to understand the mechanisms and processes behind spontaneous self-organization and to derive the fundamental principles of order.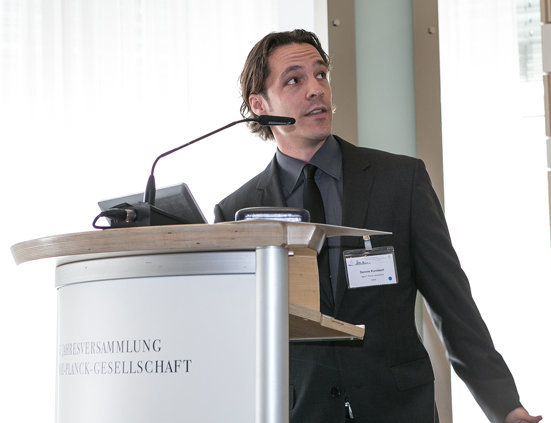 In his thesis, Dennis Kurzbach describes structuring principles of molecules through interaction in complex self-organizing systems. Therefore, he was awarded the Otto-Hahn Medal of the Max-Planck-Society. This scientific organization grants this prize, endowed with 7.500 Euros, to young researchers once a year for outstanding doctoral theses.
Under the supervision of Dariush Hinderberger at the Max-Planck-Institute for Polymer Research, D. Kurzbach investigated charged molecules, polymers and polyelectrolytes as well as intrinsically disordered proteins. These so-called "chameleon-proteins" are biomolecules with an adaptable and highly dynamic structure and are therefore difficult to identify and even more difficult to analyze. Also their function in the human body are quite often not well understood. May are associated with neurodegenerative diseases like Parkinson.
The technique that D. Kurzbach used for his investigations is quite exotic among the spectroscopic methods: electron paramagnetic resonance (EPR). It exploits magnetic resonance, better know from medicine as magnetic resonance imaging (MRI), but instead of the atomic nucleus it detects the angular momentum (spin) of an electron in a magnetic field. The spins yields characteristic spectra when stimulated by high-frequency microwave radiation in a constant magnetic field. These spectra provide information about the constitution, structure and behavior of a system of interest.
D. Kurzbach is currently working as a PostDoc at the Max F. Perutz Laboratories, Vienna. There he focuses on the structural elucidation of biomolecules through nuclear magnetic resonance spectroscopy (NMR).