Improved stability of plastic light-emitting diodes
Polymer light-emitting diodes (PLEDs) are attractive for use in large–area displays and lighting panels, but their limited stability impedes commercialization. Scientists of the Max Planck Institut for Polymer Research (MPIP) in Mainz have discovered the reasons for instability.
Monitor screens and smartphones that can be rolled and folded up are applications that could become possible in the future thanks to the development of polymer (plastic) based semiconductors. Electronics from these conducting plastics pave the way for affordable, flexible and printable electronic components. A major obstacle hindering the market introduction of plastic based light-emitting diodes (PLEDs) is their relatively limited stability.
After a few months of continuous operation their light-output starts to decrease. In spite of many investigations in both industry and academic laboratories the cause of this degradation effect is only poorly understood. Researchers at the Max Planck Institute for Polymer Research have recently discovered the mechanism causing the PLED degradation. During degradation defects are formed that strongly reduce the current injected from the positive electrode. Furthermore, these defects lead to unwanted losses in the light generation processes.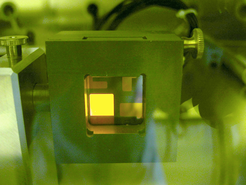 The research results are published in the latest edition of the scientific journal Nature Materials.
By using a mixture of two polymers (plastics) the effect of the defects can be strongly suppressed, leasing to improved stability of the PLEDs.
Professor Paul Blom, Director at the Max Planck Institute for Polymer Research and head of its department for Molecular Electronics, and his research team are confident that the improved stability will boost the applicability of plastic light-emitting diodes.