Humboldt Research Fellowship for two Postdoctoral Researchers
Successful application of Anastasia Markina and Trivikram Nallamilli
The Humboldt Foundation has granted fellowships to the Postdoctoral Researchers Anastasia Markina and Trivikram Nallamilli of the Max Planck Institute for Polymer Research. These fellowships, including support for scientific equipment, will allow them to carry out long-term research in Germany.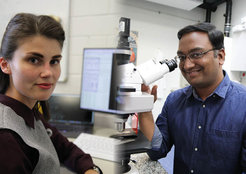 Humboldt Research fellowships for Postdoctoral Researchers are granted annually to approximately 450 to 500 researchers worldwide in different disciplines. With the applications of two Max Planck researchers, Anastasia Markina and Trivikram Nallamilli, the MPI-P was successful so that the two scientists can now focus on their research in computer simulations and food science.
Anastasia Markina started her scientific career at the Moscow State University where she worked on the efficiency of computer simulations using socalled coarse graining. She joined the theory group at the Max Planck Institute in March 2018. "I am really happy with this award as it will allow me to lead my own research project on the simulation of thermoresponsive polymers", says Markina.
Trivikram Nallamilli, born in Hyderabad in India, obtained his PhD on Chemical Engineering at the Indian Institute of Technology Madras. In August 2017, he joined the research group "Food science" of Prof. Thomas Vilgis at the Max Planck Institute. He received the fellowship for his work on soft matter and food physics, where he focuses on understanding the physical properties of emulsions and foams in food products. Nallamilli: "With this fellowship I will be able to continue my research and the results will hopefully help to design better, safer, and healthier food".