Dr. Michael Fichter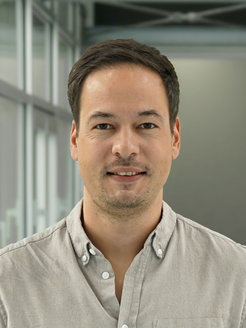 Michael Fichter studied Applied Life Sciences at the University of Applied Sciences Kaiserslautern/Zweibrücken. After completing his Master's degree in 2011, Michael Fichter started his PhD in Biology at the University Medical Center of Johannes Gutenberg University Mainz in the research group of Prof. Stephan Gehring (Children's Hospital). His work focused on the modulation of intrahepatic immune responses via nanoparticle-mediated transport of adjuvants and antigens, which he completed in 2016. After subsequent postdoctoral work in Prof. Gehring's lab, Michael Fichter received a research grant from the German Research Foundation (DFG) and joined Prof. Darrell Irvine's research group at the Massachusetts Institute of Technology (Koch Institute for Integrative Cancer Research) in 2017. His work focused on the synthesis and modification of interleukin-12 and antibody conjugates as well as nanoparticles to improve the efficacy of cancer immunotherapies. After his two-year research stay, Michael Fichter joined the research groups of Prof. Volker Mailänder (Department of Dermatology, University Medical Center Mainz) and Prof. Katharina Landfester (Max Planck Institute for Polymer Research), where he focuses on the modification of nanoparticles for the targeted delivery of immune cells (dendritic cells) as well as on the application of adjuvant-loaded protein nanocapsules for tumor vaccination. Since 2021, Michael Fichter is external project leader of the Center for Translational Nanomedicine (CTN), which dedicates to the characterization of nanoparticles in the biological system. In addition, he has been scientific coordinator of the Collaborative Research Center 1066 since 2021.
Research Interests
In line with the goals of the Center for Translational Nanomedicine (CTN), our group focuses on bridging the gap between polymer chemists at the Max Planck Institute for Polymer Research and biomedical researchers at the University Medical Center Mainz with the intend to apply nanoparticle formulations in pre-clinical models. Our group focuses on two main research lines. First, the characterization of the fate of nanocarriers in the body and more specifically the targeting of immune cells (dendritic cells) by surface functionalization using antibodies or nanobodies in order to improve nanoparticle-based cancer immunotherapies.
Secondly, we are working on the application of nanocarriers for therapeutic vaccination against cancer, such as melanoma and hepatocellular carcinoma. Therefore, protein-based nanocapsules that are additionally loaded with vaccine adjuvants, developed in the Landfester group, are applied in functional immune cell assays and tested in pre-clinical tumor models.
---
Selected Publications
PEG Spacer Length Substantially Affects Antibody-Based Nanocarrier Targeting of Dendritic Cell Subsets
Pharmaceutics, 2022, 8, 1614
Multicomponent encapsulation into fully degradable protein nanocarriers via interfacial azide-alkyne click reaction in miniemulsion allows the co-delivery of immunotherapeutics
Nanoscale Horizons, 2022, 7, 908-915
Achieving dendritic cell subset-specific targeting in vivo by site-directed conjugation of targeting antibodies to nanocarriers
Nano Today, 2022, 43, 101375
Unraveling the In Vivo Protein Corona
Cells, 2021, 10, 132
Enhanced CAR-T cell activity against solid tumors by vaccine boosting through the chimeric receptor
Science, 2019, 365, 162-168