Dr. Seah-Ling Kuan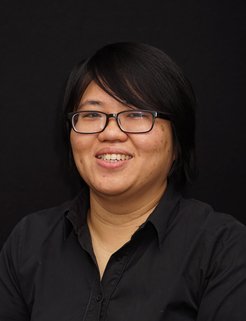 Seah Ling received her B.Sc (Hons) from the National University of Singapore in 2003 and completed her PhD (Chemistry) in the same institute in 2009. She joined Prof. Tanja Weil in NUS from 2008-2010 as a research fellow. She took up a scientist position in the Health Authority Sciences of Singapore in 2010. In 2011, she began her independent research as an Alexander von Humboldt fellow in the groups of Prof. Tanja Weil and Prof. Klaus Müllen. She was a group leader in the Institute of Organic Chemistry III from 2013-2016. She relocated to the MPI-P in 2016 and leads the Protein Therapeutics group. Since October 2022, Seah Ling serves concurrently as the co-head of the mass spectrometry core facility at the MPI-P.
Seah Ling is involved in several national cross-disciplinary collaborative research centers (CRC1066 and CRC1279) that aim to develop breakthrough treatments for cancer and infectious diseases.
She has been appointed as the Europe coordinator for the Singapore National Institute of Chemistry overseas members network from 2017-2019. Since 2020, she is an international advisory board member of the ChemMedChem.
Research Interest (Protein Therapeutics)
(Bio)macromolecular therapeutics are a cornerstone in nanomedicine for modern cancer therapy. This is due to the their high target specificity and bioactivity as well as the ease of synthetic customization to introduce various functions through chemical design. Most of these strategies are aimed at destroying cancer cells. However, it has been shown that cancer cells form only a small fraction of the total tumor volume and the tumor should be considered as a dynamically changing ecosystem. Therefore, addressing this ecosystem, i.e, the tumor microenvironment (TME), could enable more effective treatments to eradicate cancer, with the ultimate goal to prevent migration and metastasis.
Our approach is to develop new chemical strategies that address both the cellular and physicochemical space of the TME. We are particularly interested in biopolymers with catalytic functions to achieve a sustainable effect in the TME. In order to obtain fundamental insights into the chemistry and interactions of the biotherapeutics with the biological system, we will study the impact of the catalytic biotherapeutics on the TME using 3D cell models. In collaboration with the mass spectrometry group, we are developing mass spectrometry imaging for (1) label-free detection of biodistribution of metabolites and (2) mapping the changes caused by the interactions of the biotherapeutics with the different cellular components in the TME.
Key Achievements: Innovation of bioconjugation chemistry for synthetic customization of multifunctional peptide or protein target structures. Devising different stimuli responsive chemistries (i.e. linker chemistry) to program the sequential release of peptide/protein conjugates within the complex TME.
Selected Publications
143
(41), pp. 17047 - 17058 (2021)
Dual Stimuli-Responsive Dynamic Covalent Peptide Tags: Toward Sequence-Controlled Release in Tumor-like Microenvironments. Journal of the American Chemical Society
12
(40), pp. 13321 - 13330 (2021)
Chemoselective cysteine or disulfide modification via single atom substitution in chloromethyl acryl reagents. Chemical Science
Contemporary Approaches for Site‐selective Dual Functionalization of Proteins. (2021)
47
(24), pp. 9069 - 9105 (2018)
Functional protein nanostructures: a chemical toolbox. Chemical Society Reviews
Boosting Antitumor Drug Efficacy with Chemically Engineered Multidomain Proteins. Advanced Science