Gilles Holst Medal to Prof. Blom and Prof. de Leeuw
The Royal Netherlands Academy of Arts and Sciences acknowledges the great contribution of Paul Blom and Dago de Leeuw
Mainz/Amsterdam. Paul Blom and Dago de Leeuw are the recipients of the 2015 prestigious Gilles Holst medal from the Royal Netherlands Academy of Arts and Sciences. The award ceremony will take place on October 26, 2015 in Amsterdam during a symposium focusing on molecular electronics.
Blom and de Leeuw's work led to numerous innovations. In the last two decades they revealed many of the fundamental electrical properties of organic semiconductors. This knowledge has then subsequently been used to successfully apply these materials in a large range of devices as organic transistors and integrated circuits, displays and light-emitting diodes, sensors, and solar cells. Furthermore, they invented a number of new devices as memory diodes based on polymeric ferroelectrics and self-assembled diodes and transistors. Their work is considered as a perfect example of the added value that can be created between scientists with a complementary background, physics and chemistry, as well as collaboration between academia and industry.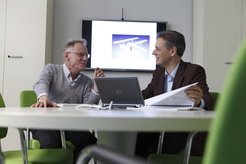 Every four years, the Gilles Holst Fund awards a medal to a Dutch scientist who preferably works at the interface between physics and chemistry. The award was established in 1939 to mark the 25th anniversary at NV Philips of physicist and Academy member Prof. Gilles Holst (1886-1968). The laureates receive a medal engraved with the image of Gilles Holst.