Tanja Weil elected into the Senate of the Leibniz Association
Prof. Dr. Tanja Weil, director of the Max Planck Institute for Polymer Research, has been elected as senator of the section "C – Life Sciences" of the Leibniz Association. The Senate is responsible for the science policy objectives of the Leibniz Association and acts in an advisory capacity. It issues recommendations on both the strategic development of the Association and its member institutions and on increasing the efficiency and competitiveness of research and services. The quadrennial appointment of Weil starts on July 1, 2016.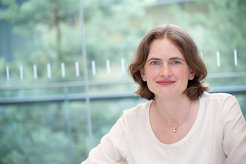 Due to her renowned scientific achievements in Germany and abroad as well as due to her extensive research experience in the academic field and the industrial sector, Weil has accepted the offer to serve as senator of the Leibniz Association. In addition, she has been nominated as a member of the Senate Evaluation Committee (SAE). Together with other members and senators she will provide support to further expand the strategic network of the Leibniz Association and its various Institutes.
About the Leibniz Association
The Leibniz Association holds 88 independent research institutions with different foci that conduct knowledge-driven and applied basic research. It also works to prompt knowledge-transfer to policy-makers, academia, business and the public. In addition to the co-opted members, the Senate of the Leibniz Association is composed of the federal and Länder ministers as well the presidents and directors of German science organizations.