Symposium on behalf of emeritus director Klaus Müllen and his successor Tanja Weil
On October 1, 2016, Prof. Dr. Tanja Weil takes over the directorship of the Max Planck Institute for Polymer Research (MPI-P) heading the department "Synthesis of Macromolecules. After almost 30 years as director and head of the department "Synthetic Chemistry", Prof. Dr. Klaus Müllen retired from his positions at the MPI-P taking on the emeritus status.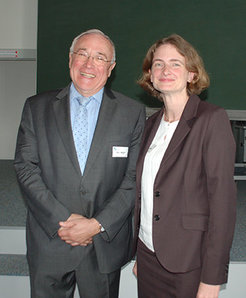 The symposium "From Molecules to Functional Materials" taking place on September 2, 2016, honors the work of Klaus Müllen – as director, scientist and colleague. The event with various national and international speakers offers a retrospect of the achievements in the group "Synthetic Chemistry" and serves as a lookout onto future core areas of Tanja Weil's new department. Guests include, among others, acclaimed researchers from the ETH Zürich, the University of Florida, and the Carnegie Mellon University Pittsburgh.
The research of Tanja Weil's department centers around tailored nanomaterials for biomedical and materials science applications. She and her team also design and synthesize precision macromolecules and hybrid materials. From 2010 until 2016, the winner of the Otto Hahn Medal was the director of the Institute of Organic Chemistry III at Ulm University. Prior to that, Weil was a professor at the National University of Singapore and completed a successful career in the pharmaceutical industry. She is currently an elected senator of the section "Life Sciences" of the Leibniz Association.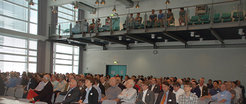 During his 27 years as director of the MPI-P, Klaus Müllen's research centered on polymer chemistry and materials science with a focus on graphene as material for components in electronics. The most-cited German chemist has been decorated with numerous awards, among others, with the Max Planck Research Award, the Award in Polymer Chemistry of the American Chemical Society as well as with the Carl Friedrich Gauß Medal and the Herman Staudinger Award. Since May 2016, Müllen is a Gutenberg Research Fellow at Mainz University and heads the emeritus research group "Graphenes" at the MPI-P.