Proteins at Interfaces: New Review
In their review about engineering proteins at interfaces, researchers at the Max Planck Institute for Polymer Research (MPI-P) focus on the most commonly used characterization methods for adsorption processes at planar and curved interfaces. They summarize the main findings of current research in this field, identify the current challenges and discuss possible developments. The article has been published as a review in the renowned scientific journal Angewandte Chemie.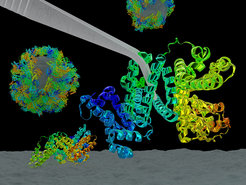 Medicine offers an ambitious field of application for nanomaterials: they are regarded as a hope for new treatment options. For example, tremendous efforts are being made to successfully use nanomaterials as delivery systems for drugs in therapeutics or diagnostics. When nanoparticles are used in medicine, their curved surface automatically comes into contact with proteins from extracellular fluids such as saliva or blood or with the intracellular fluid, the cytoplasm. Another possibility to encounter biological fluids and thus proteins consists of planar surfaces such as membranes or coatings in different areas - from implants in medicine to antifouling paints of ship hulls.
As soon as materials come into contact with a biological fluid containing proteins, these proteins are usually attracted to the surface of the material and adsorbed, whether desired or not. This specific or non-specific process of protein adsorption occurs at many different interfaces and is very complex in nature. Controlled protein interactions for materials in a biological environment are desired to control processes and increase efficacy. It is fundamentally important to understand how these processes work. The information obtained can be used to specifically exploit the effect of protein adsorption and thus to provide surfaces with tailored functions.
Seventeen scientists from the MPI-P have pooled their expertise and put together an overview of the most commonly used characterization methods, which lead to a better understanding of the adsorption processes on curved and planar surfaces. This review article, which cites 234 specialist publications, has appeared in the renowned journal Angewandte Chemie. The goal is to pave the way for the development of functional materials that interact in a predetermined way with proteins. It shows the advantage of combining the different methods to access different surface geometries. So far, little exchange has been made between the analytical methods for the various interface shapes curved and planar, although the transfer of available information can significantly advance research. Therefore, it is particularly emphasized which techniques existing with respect to planar surfaces can be applied to the characterization of nanoparticles and vice versa. In addition, some developments of protein repellent surfaces are shown as well as modern strategies for the production of functional protein coatings are discussed.
The Max Planck Institute for Polymer Research (MPI-P) focuses its research on soft matter and macromolecular materials with a globally unique orientation. The mission of the MPI-P is to control soft matter at the molecular level to understand, develop and design functions.
Each of the six departments, each headed by a director, conducts research in a specific area of work. In addition, the MPI-P's research activities have developed into six main focus topics, in which different research groups of the institute work together across disciplines. One of these research areas is "proteins at interfaces". One result of this cooperation is the presented review article, for which five directors and two independent junior research group leaders are responsible as authors. Katharina Landfester, corresponding author of the article, summarizes the relevance for the institute: "The utilization and control of protein adsorption is an essential aspect of the current development of materials at MPI-P, e.g. for smart nanocarriers for drug delivery, biosensors or the improvement of surfaces of medical devices ".