"You always get back more than you gave."
Awarding of the "Kalkhof-Rose Polymer Science Award"
This year's Poster Day at the Max Planck Institute for Polymer Research was held in honor of the institute's long-time supporter, Sibylle Kalkhof-Rose, who passed away in September 2022. On this occasion, the "Kalkhof-Rose Polymer Science Awards" were granted for the first time. These awards honor scientists of the institute with outstanding research results.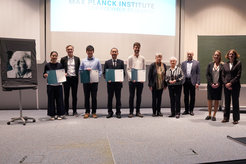 "You always get back more than you have given" was the philosophy of Sibylle Kalkhof-Rose, whose support for the Institute together with her husband began in the 1970s. Through generous donations, Mrs. Kalkhof-Rose has supported the Institute financially for decades, so that today, for the first time, four scientists were honored with the "Kalkhof-Rose Polymer Science Award" in her name.
One award went to the work of Bas van der Zee from the department of Paul Blom. In his research work, van der Zee focuses on the physics of organic light-emitting diodes made of materials that exhibit a special type of fluorescence and can thus achieve particularly high output.
Wenhao Zheng from Mischa Bonn's department received another award. Zheng is conducting research on charge carrier dynamics in new nanomaterials, which he is investigating using terahertz laser spectroscopy.
For a paper on the motion of charged water droplets, another prize was awarded to Xiaomei Li from Hans-Jürgen Butt's department. She was able to show that not only mechanical but also electrostatic forces play a role in the movement of drops on surfaces. Li is funded by the DFG priority program "Dynamic wetting of flexible, adaptive and switchable surfaces."
The fourth certificate was awarded to Dr. Zhixuan Zhou from Tanja Weil's department. Zhou's work focuses on metallo-peptides that can assemble into nanofibers in cells. Potential application of the research is a new method of cancer therapy that enables destruction of the metabolism of cancer cells.
About Walter and Sybille Kalkhof-Rose
Walter and Sibylle Kalkhof-Rose have been long-time supporters of the Institute. In 2018, Sibylle Kalkhof-Rose was able to personally open the "Kalkhof-Rose-Diamant Laboratory," which was named after the couple. "Supporting this excellent research is something wonderful and special. Through this, the memory of my husband, who has always been strongly committed to science in Mainz, also lives on," Kalkhof-Rose said.
Walter and Sibylle Kalkhof-Rose were strong supporters of a polymer science institute in Mainz even before the institute was founded in the 1980s. They were also extremely supportive to young scientists. After the death of her husband, the Mainz industrialist Dr. Walter Kalkhof-Rose, Sibylle Kalkhof-Rose successfully continued his commitment and worked to support both research and young scientists.