10 Leading Chinese Scientists in Europe: Si Wu receives award for research on photoresponsive materials
For his academic achievements, Dr. Si Wu, project leader at the Max Planck Institute for Polymer Research, is recognized with the certificate "10 Leading Chinese Scientists in Europe". In his work he focuses on the properties of photoresponsive materials that can be controlled by light with high spatiotemporal resolution. Possible fields of application include phototherapy, solar enery storage, healable coatings and information storage.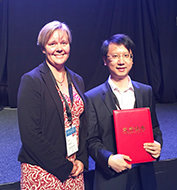 The award ceremony on August 19, 2016, took place in Hillerød, in the Greater Copenhagen Area in Denmark as part of the Europe Forum of the Federation of Chinese Professional Associations in Europe (FCPAE). The event aims to explore new opportunities for Chinese-European cooperations and creates a networking and knowledge exchanging platform for European company as well as organization representatives and Chinese professionals working in Europe. It is organized by the FCPAE and the Association of Chinese Experts in Denmark.