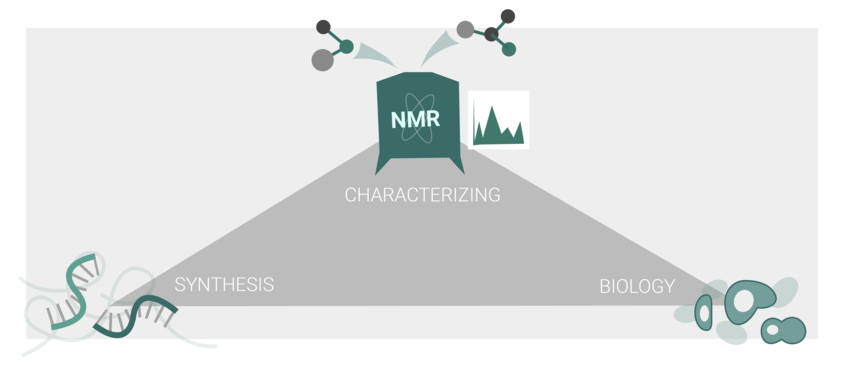 Methods | AK Weil
We use modern technologies for the production and characterization of our substances.
Synthesis methods
Organic synthesis chemistry, controlled polymer synthesis, peptide and oligonucleotide synthesis, high-pressure high-temperature synthesis, electropolymerization (electrochemical synthesis)
NMR spectroscopy (M. Wagner)
Nuclear magnetic resonance (NMR) is one of the most important methods for the elucidation of chemical (biological) structures. Almost all important nuclei (hydrogen, boron, carbon, nitrogen, fluorine, silicon, aluminium, phosphorus and many others) that have a magnetic moment are questioned in the magnetic field with regard to their
exact atomic composition (structure characterization),
three-dimensional structure in the solution,
chemical and/or physical and/or biological interaction (e.g. protein-drug interactions or the temperature-dependent activity of molecules),
in-situ observations of reaction processes in the magnetic field over time spans from seconds to days,
Diffusion constants to determine e.g. the sizes of particles or complexing constants,
direct observation of gel formation by means of gel-HR MAS NMR (interaction of different species during gelation).
We are researching to establish and apply the interaction of NMR spectroscopy with many other methods such as XRD (X-ray diffraction), XPS (photoelectron spectroscopy), mass, DLS (dynamic light scattering), TEM (electron microscopy in general) or FCS (fluorescence correlation spectroscopy).
Mass Spectrometry (J. Räder, S.-L. Kuan)
In our Department of Mass Spectrometry we operate a method spectrum ranging from gentle ionization for the investigation of intact macromolecules to fragmenting ionization for the investigation of materials.
Gentle methods such as ESI (electrospray ionization) and MALDI (matrix-assisted laser deorption/ionization) are used in our area:
Analysis of synthesis products and their purity
Determination of the elemental composition
Clarification of polymer and end group distributions
Detection of modifications of biopolymers
Structure elucidation by tandem mass spectrometry

We use fragmenting analysis by ToF-SIMS (Time-of-Flight - Secondary Ion Mass Spectrometry):
Analysis of polymer mixtures
Characterization of cross-linked polymer films
Depth profiling of organic electronic circuits
Investigation of biological systems on surfaces
The focus of our method development is on the use of imaging mass spectrometry for the analysis of chemically and biologically modified surfaces. We are currently exploring nanoparticles in tissue samples to gain a deeper understanding of complex processes such as drug release and metabolism without the use of markers.
Cell Laboratory-"BioCore" (D. Ng)
The "BioCore" laboratories of genetic engineering safety level 2 bring together various analytical and application-based questions and provide access to various methods of cell culture and protein biochemistry. In addition to the chromatography system Äkta™ pure 25m, the multimode reader Tecan Spark®20M and the flow cytometer BD Accuri™ C6 Plus, common methods such as gel electrophoresis and western blot are also available. The following methods are used in BioCore laboratories:
Immortalized cell lines, primary cells, aerobic and anaerobic bacterial strains
Microscopy of cells and materials
Fluorescence and luminescence measurements
Impedance measurements of cell layers
Investigation of antimicrobial effect
Encapsulation of cells
Assays: apoptosis, cell toxicity, cell uptake
We offer quality management in order to create a reliable cell culture for users by means of standardized procedures.